May 1, 2016:  For Immediate Release!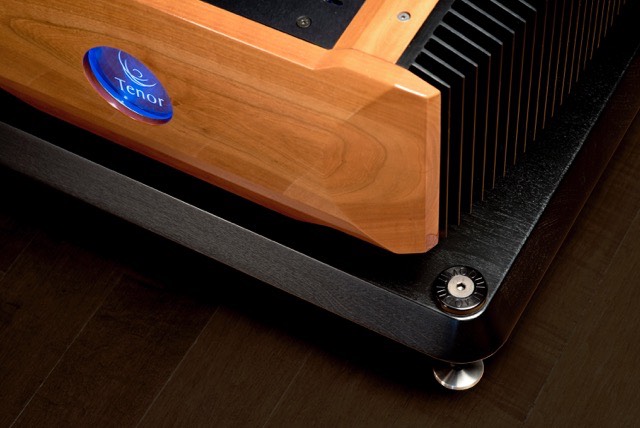 Tenor is excited to introduce custom high performance Modulum Audio Platforms for the complete line of Tenor amplifiers.  
Custom made Modulum Platforms for Tenor amplifiers available exclusively from Tenor, Montreal Canada.  Tenor 175S & 350M series amplifiers require the 28.5" x 21.5" platforms and the Line 1/Power 1 & Phono 1 preamplifiers require the 24.5" x 21.5" platforms.  While platforms are available in either single, 2 high, 3 high or 4 high assemblies, single platforms always provide the most isolation.  It is recommended that the Power 1 power supply be on a single platform for optimal benefit.  Platforms come standard in Black Finish with Black Hardware.  
Prices as follows: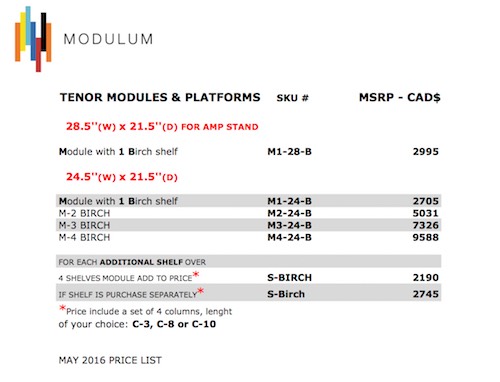 Available exclusively through Tenor, this is what Jean Francois Michaud of Modulum Audio says:
"How can Modulum custom made platforms improve over Tenor's elaborate vibration control system which includes tuned suspensions and dissimilar wood, metal and rubber mechanical interfaces?
The answer is straightforward!
Modulum platforms incorporate harmonic absorbers (we call them WINGS) that are tuned to compliment the existing Tenor vibration control systems and further eliminate sympathetic vibrations that negatively impact the sonic presentation.  Finite Element analysis and 3D modeling measure structural and airborne vibrations to determine the residual resonance frequencies of each Tenor audio piece.  Several hundred hours of analysis followed by critical listening sessions then determine which harmonic absorber combination works best under the custom sized Tenor platforms. The WINGS operate in phase opposition thereby nullifying offensive vibrations allowing the performance of the Tenor's to improve by as much as 20%!"
Jean Francois Michaud
Modulum Audio - Montreal Canada 
www.modulum.ca