Written by Doug Schneider, Soundstagehifi, April 1 2019
… The product at MAF 2019 most talked about among our reporters was Klipsch's Klipschorn AK6 loudspeaker ($25,999/pair). The original Klipschorn debuted in 1946, and soon became a legendary speaker from a soon-to-be-legendary US brand. It was considered ingenious for the way founder and designer Paul Klipsch (1904-2002) mounted its 15" woofer in a cabinet designed to act as a large "folded horn" to acoustically amplify the woofer's output. The Klipschorn's front-mounted tweeter and midrange driver were also horn-loaded. The speaker was designed to be placed in a corner of a room, whose side and front walls then acted to effectively increase the length and size of the horn to further increase the woofer's output -- all with no increase in amplifier power. All of this meant that the speaker's sensitivity was sky-high, and that the flea-watt tube amplifiers of those pre-stereo, pre-transistor days could drive a single Klipschorn to very high volumes: a combination of lifelike sound-pressure levels and great dynamic range that, still today, few speakers can achieve.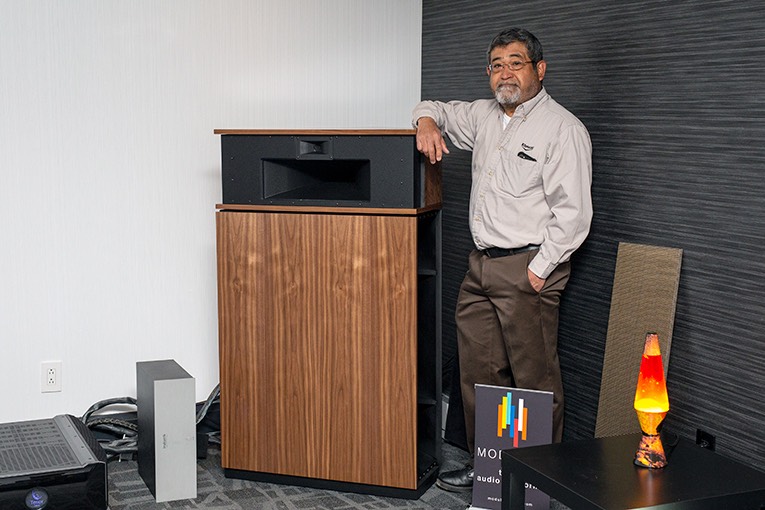 KlipschornRoy Delgado with the Klipschorn AK6
Under the guidance of Roy Delgado, who began at Klipsch in 1986 and worked with Paul Klipsch himself, the Klipschorn AK6 was born. The speaker looks about the same as it always has (though the fit'n'finish of present-day Klipschorns is far better than that of older units I've seen over the decades), and there are still horns on its 1" tweeter, 2" midrange, and 15" woofer. But Delgado has made one big change, reworking the speaker's cabinet so that it no longer has to be jammed into a corner to produce proper bass response. In Montreal, they'd placed two Walnut-finish Klipschorns about a foot from the side and front walls. (Cherry and Black Ash finishes are also available.) Delgado told me that many of the changes he'd made were ones Paul Klipsch had wanted but had not had the chance to implement. I asked him to tell me the speaker's sensitivity at 1W/m.
"105dB," he said.
"Real?" Exaggerating a speaker's sensitivity is the norm for most speaker makers these days.
His reply was calm. "Real."
It's not hard to believe this of a horn speaker, which produces tons of acoustical gain. But if you see a fully passive speaker with no horns and a claimed sensitivity greater than 90dB/W/m, I suggest a healthy degree of skepticism. The Klipschorn's unusually high sensitivity made the Tenor mono amps (350W into 8 ohms) they were driven by in Montreal overkill. Well, maybe not all of the time . . .
Late Saturday night, Jason Thorpe and I were in the restaurant of the Hotel Bonaventure Montréal, working on our show reports. Though not formally a member of our team, fellow writer Diego Estan was also there, drinking a beer. At a nearby table sat Roy Delgado and the other Klipschers. Jason, typing on his laptop, perked up when he heard someone at the Klipsch table talking about how loud the Klipschorn AK6es could actually go -- Jason sometimes gets rowdy, and likes his music LOUD. Then he overheard something else: One of the Klipsch krew said he'd like to go to their display room to find out just how loud they'd go. They got up.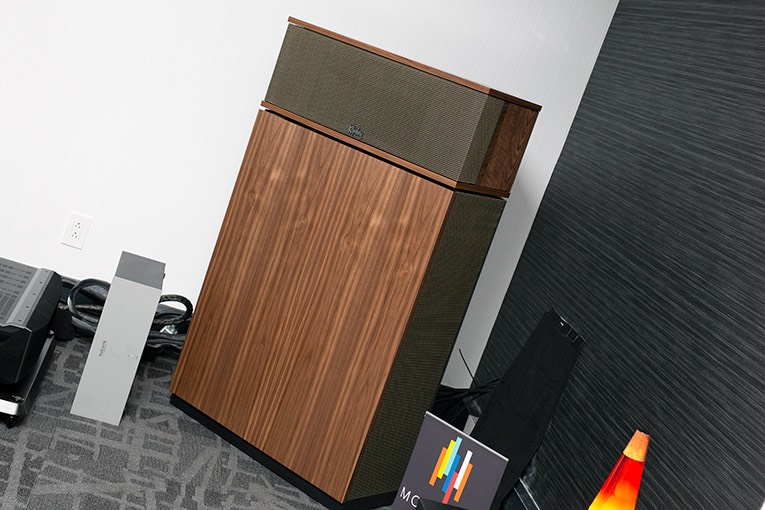 I still had work to do, but Jason and Diego called out to the Klipschers and invited themselves along. They returned 20 minutes later, grinning. Diego told me that the SPL app on his smartphone measured the Klipschorn AK6es' output as 120dB -- from 20' away. According to the Centers for Disease Control and Prevention, "Loud noise above 120 dB can cause immediate harm to your ears." Both had kept their ears plugged almost the entire time, but Jason told me that, despite the rock-concert SPLs, the Klipschorns' sound was clean, with no hint of strain. Both were very impressed.
Which meant that I spent part of the next morning, Sunday, giving the Klipschorns a serious listen at normal listening levels. Their tonal balance was commendably natural -- I could detect no obscene colorations from the horns on the drivers -- but what I mostly noticed was how shockingly clean and effortless they sounded. Not only was this reboot of the classic Klipschorn one of the best products at Montréal Audio Fest 2019, it was the biggest surprise of the show for me and the team …
For the entire on-line article, click this link:
Soundstage - The Best of Montreal Audio Fest 2019